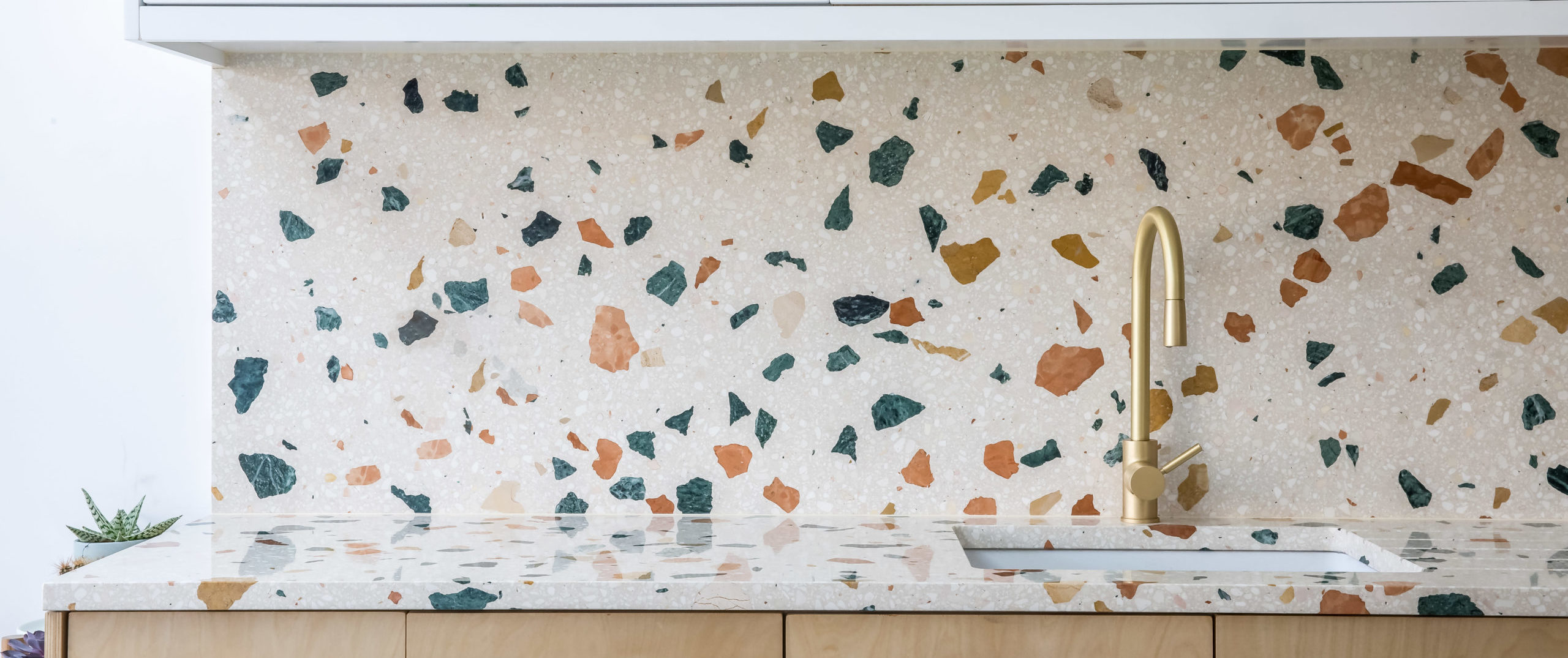 You may be thinking about using terrazzo for a countertop for your home or as part of a commercial project. But with so many options and so many companies keen to win your business, where do you start?
A company in the business of selling terrazzo may give a price but might not mention at first the many variations for a countertop.
What's the pricing structure?
There's not really any such thing as an off-the-shelf terrazzo countertop. Various elements affect the pricing of a countertop, these include:
Size
Material – resin or cement
Variations – finishes and features such as cut-outs or texturing
As a rough guide, a standard-sized worktop with a standard edge, polished and delivered within the London area starts at £800 per square meter plus VAT.
Why do different designs have different prices?
Diespeker stocks a wide range of terrazzo, some of which are rarer than others and some you won't find anywhere else as they are exclusive to us. We have three price breaks for readymade terrazzo (Standard, Standard plus and Luxury) plus our bespoke which is always POA:
Why might a countertop become more expensive than first quoted?
You choose from the 'luxury' range
You want a bespoke rather than a standard mix
You prefer a special edge (variations include pencil, bevel, bullnose and waterfall)
Your countertop needs cut-outs for sinks and/or hobs
You want Diespeker to install the countertop
Your project is outside of London / the UK
How can I keep the cost lower?
Buying 'off the rack' terrazzo to suit your budget,
By requesting supply only (you will need your own installer or to install it yourself)
By sticking to a simple design without any special features
Before you get in touch
You need to nail down a few key factors before you speak to us to help us give an accurate sense of how much your terrazzo countertop is going to cost.
Which of our materials do you prefer?
How large is the countertop?
What units will it be installed on to?
Are there any extra features within the design (such as cut-outs)?
Where is the countertop to be transported to?
Our sales team will be more than happy to talk through all the options so they can provide you with samples and a precise quote.
Can you explain some of the differences that affect the price?
Terrazzo is available as either a resin or cement material. These are the basic differences:
Resin terrazzo is created with a mix of marble chippings or other aggregate and water-based polyurethane resin. It is generally only for interior use. It's much lighter than cement so is often better for countertops.
Cement terrazzo is the traditional style of terrazzo made by adding marble chippings or other aggregates to a cement matrix binder. It is suitable for use outside or indoors. Cement terrazzo is said to have a deeper, more natural quality.
Resin terrazzo is more expensive than cement terrazzo but this is balanced by the fact that it is more resistant to cracks, scratches and stains. It is usually the preferred choice for countertops.
When browsing our terrazzo products each design is labelled as being available in cement or resin. If there's one you like but want it in a different base, we can match it by creating it as a bespoke product.
These are the collections available from Diespeker, with Standard being the least expensive:
Standard
Standard Plus
Luxury
Bespoke
Bespoke terrazzo is unique – it is made to order in our factory by a skilled artisan team and created to match a client's preferences for mix, colours and chippings. Every bespoke terrazzo is quoted per project – this is because each one is different! One design might have basic marble chippings whilst another has semi-precious stones, all of these choices will affect the overall cost of the project.
Still confused?
You will see from this guide that it's difficult to give an exact price as every project is different. This is why we are more than happy to talk through your preferences so we can provide you with a quote, or several quotes giving you a variety of options.
Next steps
Contact us by email or phone or visit our showroom where you can see many of our available terrazzo designs for yourself. If you can't visit we can send samples to you to help you decide.
Sales process
Click here to find out what we need to know before you order!
Ready to order? Here's how to contact us
Email: sales@diespeker.co.uk
Phone: 020 7358 0160
Address: 132-136 Ormside Street, London, SE15 1TF